Caught on video: John Kerry admitted U.S. CO2 emissions cuts are pointless at Joe Biden's Leaders Summit on Climate where they say:
"Confronting the climate crisis requires unprecedented global cooperation, as well as a shared sense of urgency and ambition. President Biden convened the virtual Leaders Summit on Climate to ensure close coordination on addressing the climate crisis with key players in the international community at the highest levels of government. We can solve this crisis—but only if we work together."  
But "special Presidential Envoy for Climate", John Kerry aka, Biden's Climate Czar, provided a sobering moment during an interview where the curtain was pulled back and reality emerged. Watch the video clip:
Kerry said:
"…getting to net zero [carbon dioxide emissions] is gonna be hard, really hard…that will depend on breakthrough technologies and breakthrough innovations. But even if we get to net zero, we still have to get carbon dioxide out of the atmosphere."
He's saying essentially that cuts won't matter, but technology and innovation will. He also seems to erroneously think "net zero" applies to getting ALL of the carbon dioxide out of the atmosphere, which will end all plant life on Earth if it happened.
He also said essentially the same thing about emission cuts back in 2015 in this video:
"The fact is that even if every single American citizen biked to work, carpooled to school, used only solar panels to power their homes – if we each planted a dozen trees – if we somehow eliminated all of our domestic greenhouse gas emissions – guess what? That still wouldn't be enough to offset the carbon pollution coming from the rest of the world. If all the industrialized nations went down to zero emissions – remember what I just said – all the industrial nations went down to zero emissions, it wouldn't be enough – not when more than 65 percent of the world's carbon pollution comes from the developing world."
Meanwhile, China and other countries pay lip service to carbon dioxide emission reductions, as seen in Figure 1 below.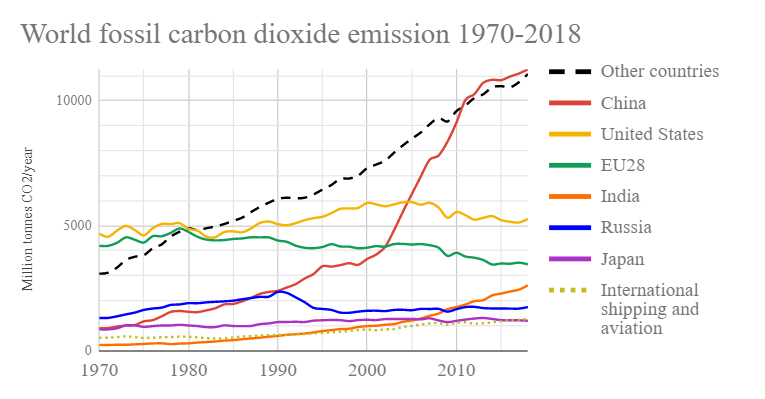 Why are we so in a rush to reduce CO2 emissions in the United States when nothing will come of it, especially when other countries have already proven they aren't going to do anything?
This is what happens when politicians play scientists and engineers.