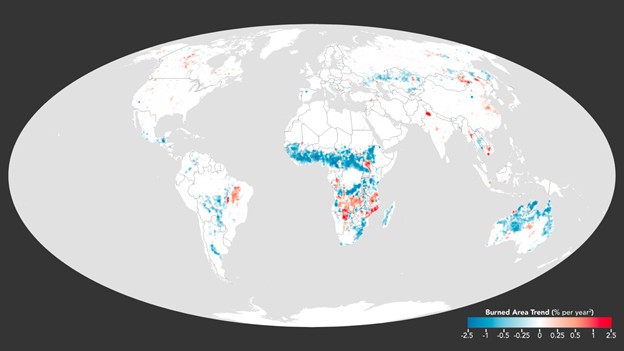 [Image courtesy of NASA: NASA Detects Drop in Global Fires | NASA]
National Public Radio (NPR) published an article Tuesday claiming global warming is making wildfires more frequent and severe. The article achieved tremendous media attention, rising to the top of Google News searches for "climate change." The article, however, denies objective NASA satellite data showing beyond any doubt that wildfires are becoming less frequent and severe as the Earth modestly warms.
The NPR article, "The Climate Change Link to More and Bigger Wildfires," is an interview with several people in academia who believe in a climate crisis. Montana State University professor Cathy Whitlock, for example, says in the article that the American West is experiencing worsening fire seasons and "95% of it's climate driven."
"What I realized is that while I've spent 20 years thinking about how ecosystems would respond to climate change and how fire regimes would respond to climate change, I have not thought about what that would feel like to witness," added University of Montana professor Phil Higuera.
Neither the interviewees nor the article itself, however, presented any objective data on wildfires to support the alarming assertions. If global warming is causing more and bigger wildfires, scientists should be able to objectively and globally measure these worsening wildfires.
Fortunately, NASA satellites have since 1998 been measuring the amount of land burnt by wildfires. The NASA wildfire numbers are clear and compelling. According to objective NASA satellite measurements, the total acreage burned by wildfires each year has declined by 24 percent since 1998.
There you have it. The evidence is incontrovertible. Wildfires have declined 24 percent since 1998. Anyone saying global warming is making wildfires worse is either ignorant of the objective facts or peddling misinformation.