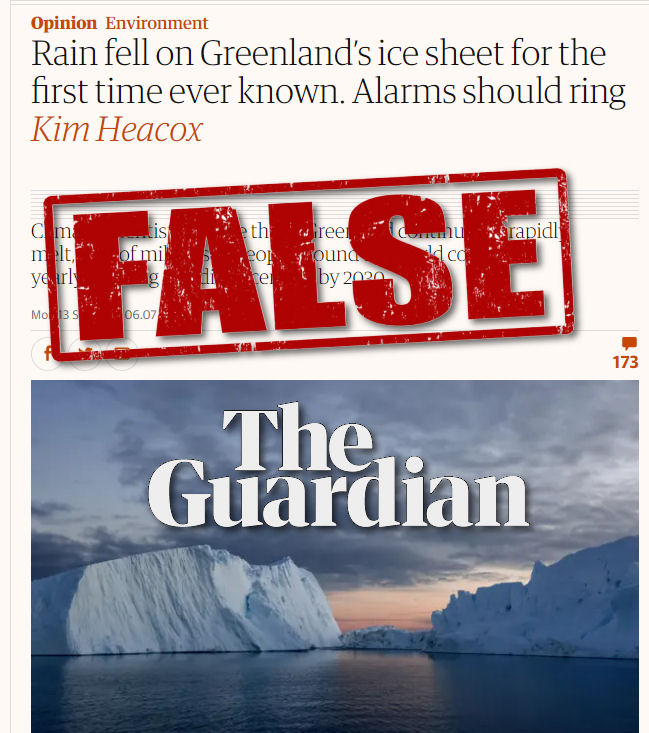 This past week, the mainstream media deluged the public with stories claiming Greenland's ice sheet was experiencing rainfall for the first time ever. History proves this claim is false and the stories are wrong.
Rain fell at the normally snowy summit of Greenland for the first time on record," was CNN's headline.
Rain fell on Greenland's ice sheet for the first time ever known, Alarms Should Ring, said Kim Heacox of the ever-worried Guardian.
"Last month, for the first time in recorded history, rain fell on the highest point of the Greenland ice sheet," said the Guardian. "It hardly made the news. But rain in a place historically defined by bitter cold portends a future that will alter coastlines around the world, and drown entire cities."
The mainstream media's fact checkers failed again, something all too common when the story is promoting climate alarm. Records reveal that this is not the first rainfall in Greenland on the ice-sheet, and certainly not the first on the Greenland summit peak, which stands at around 10,000 feet.
A 1975 report prepared for National Science Foundation (NSF) by the U.S. Army Corps of Engineers, at the Cold Regions Research and Engineering Laboratory documented at least two previous rainfall events at or near Greenland ice sheet peak.
As seen in the figure below, the report showed at least two rainfall events have occurred, once in 1933 at 8,840 feet and again in 1950 at a much higher altitude. The 1950 rainfall event was above 9,500 feet and very close to the Greenland summit peak, thus contradicting mainstream media claims of unprecedented rainfall at the summit.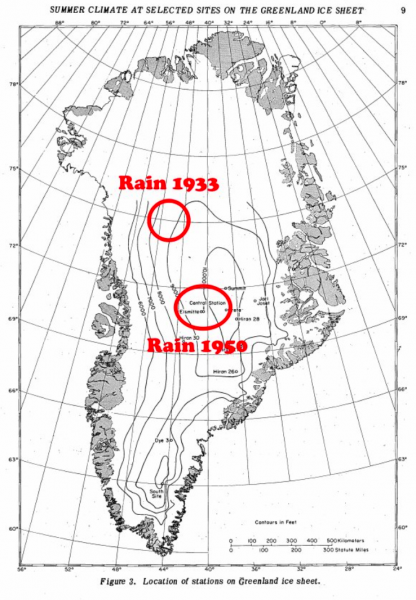 The NSF report states:
"According to Hogue (1964) heavy rainfall seldom occurs above 6,000 ft on the Greenland ice sheet. However, at Watkins (75°N, 48°W, and elevation 8,840 ft) rain was reported to have occurred in July 1933. Hogue also notes that in the Centrale-Eismitte area, drizzle and rain were each reported once in a three-year period, on 20 and 21 June 1950, respectively."
The site of the previous rainfall event, Centrale-Eismitte, is close to the 9,800-feet mark where the current rainfall event occurred.
The recent rainfall event at Greenland's icy peak was rare, but not unique. Accordingly, the mainstream media coverage of the event was at best uninformed and irresponsible, and at worst an outright lie.
Rather than investigate whether evidence backed up the claim that rainfall had never fallen in Greenland's summit, media outlets including CNN, the Guardian and other's pushed yet another alarming climate fairy tale. They should be ashamed of themselves!.