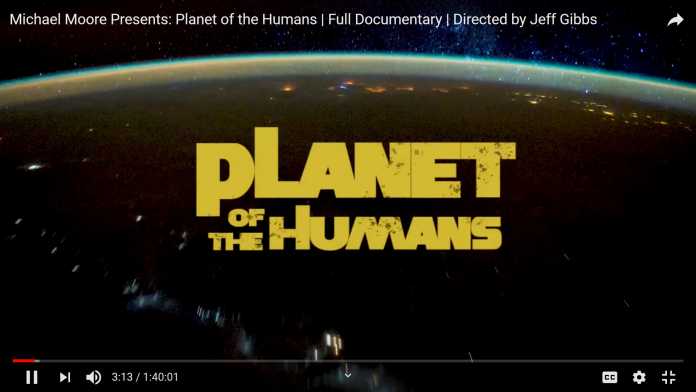 The wind and solar industries are nothing more than crony rent-seekers destroying the environment while pretending to save it, socialist activist and filmmaker Michael Moore admits in his new film, Planet of the Humans. Strikingly, the film exposes the fact that so-called green energy cannot prevent climate change. According to Moore, the people who are promoting wind and solar power are making fortunes off the backs of taxpayers, through government programs subsidizing renewable energy and mandating its use.
Released as a free film on You Tube, the film reveals many dark and dirty environmental secrets regarding wind and solar power.
Solar panels, for example, are made with metallurgical coal and require 16 times more materials in the form of cement, glass, concrete, and steel than do nuclear power plants. Solar panels also create 300 times more waste than nuclear power.
Biofuels are produced using tractors running on diesel, use tremendous amounts of water (often pumped by electricity from fossil fuel power plants), and delivered to market by trucks fueled by diesel. Also, the crops used to make biofuels require the conversion of between 400 and 750 times more land—depending on the crop grown to produce the fuel—than the land required to produce an equivalent amount of petroleum energy.
Aside from showing that so-called green energy isn't very green, Moore and his longtime collaborator Jeff Gibbs also skewer green energy profiteers. For instance, although Elon Musk brags his Tesla Gigafactory battery manufacturing plant in Nevada is powered by renewables, Gibbs shows it is hooked up to the electric grid, relying on natural gas for much of its power.
Also, the film shows that Al Gore, the political godfather of climate alarmism, took millions of dollars in fossil fuel money when he and his co-owner of Current TV sold the channel to Al Jazeera, a Qatar state-funded network. Qatar is a nation whose government is largely funded by oil and gas revenues and whose citizens have the largest per capita carbon footprint in the world.
Gibbs examined a supposed green energy investment fund, the Green Century Fund recommended by Bill McKibben's 350.org. Examining the fund's investments, he "found less than 1 percent solar and wind and 99 percent things like mining, oil and gas infrastructure, a tar sands exploiter…."
Gibbs explained in an interview with Breitbart news, neither Moore nor he had intended to challenge the effort to replace fossil fuels with renewable power. Instead, they wanted to understand why it hasn't been more successful. Instead of dark forces and moneyed interests suppressing so-called green energy, they were disgusted to find corporate interests were devising and profiting from policies subsidizing and mandating wind and solar power. Moreover, they were surprised to find "renewable" energy production requires the use of fossil fuels.
"It turned out the wakeup call was about our own side," Gibbs said in a phone interview with Breitbart. "It was kind of crushing to discover that the things I believed in weren't real, first of all, and then to discover not only are the solar panels and wind turbines not going to save us … these technologies were just another profit center."
For the sin of telling the truth about the left's green energy fantasies, environmental protest leaders and campaigners have called for "Planet of the Humans" to be pulled from viewing.
Climate realists have long described the tremendous virtues of fossil fuels when compared to renewable energy sources. One of the most authoritative discussions of the virtues of fossil fuels is Climate Change Reconsidered II: Fossil Fuels, and a recent paper by The Heartland Institute, "Policy Brief: How The Green New Deal's Renewable Energy Mining Would Harm Humans And The Environment." The latter Policy Brief examines how mining to produce minerals critical for wind, solar, and battery power produces a horrendous toll on human health and the environment. However, the mainstream media has largely ignored this research because it goes against their liberal bias. That's why Moore's Planet of the Humans is so dangerous to the political Left; because the criticism and expose come from one of their own.
Planet of the Humans is spot on. Green energy is bad for the environment, bad for the economy, and bad for human freedom. To Messrs. Moore and Gibbs, in the immortal words of movie hero John McClane, I say, "Welcome to the party, pal!"