National Geographic is exploiting Thanksgiving weekend by scaring people into believing climate change is "coming for New England's cranberries." As reported here last week at Climate Realism, however, cranberry production in New England and throughout the nation is steadily increasing and setting new records nearly every year as the Earth modestly warms and as more atmospheric carbon dioxide improves plant growth and crop production.
In a Thanksgiving Eve article titled, "Climate change is coming for New England's cranberries," National Geographic claims changes in climate "are making [cranberries] harder to grow and putting a question mark next to the iconic, beloved crop's future."
However, National Geographic presents no actual data to support its claim. Fortunately, the U.S. Department of Agriculture provides such data.
As noted last week here on Climate Realism, the U.S. Department of Agriculture's National Agriculture Statistics Service estimates record Massachusetts cranberry production in 2020. That directly contradicts National Geographic's claim. That also likely explains why National Geographic chose not to include any data in its article. The USDA also estimates strong cranberry production in Wisconsin this year. Wisconsin and Massachusetts are the two leading states for cranberry production.
Cranberry production in Massachusetts, Wisconsin, and the rest of the United States has been so strong in recent years that, according to the Wisconsin State Farmer news site, "Facing a continued glut of cranberries and depressed prices, in 2017 the cranberry industry asked federal officials in 2017 to take unusual steps aimed at reducing production."
"The industry's U.S. Cranberry Marketing Committee asked the USDA to cap the amount of cranberries grown in 2018 at 75% of the normal crop. The committee also has asked the USDA to have cranberry companies withhold 15% of the 2017 crop from the marketplace," the State Farmer reported.
The chart below, ironically published last year by National Geographic, documents and illustrates the consistent, long-term growth in cranberry production. The chart ends with the year 2018, but that trend will continue with the estimated 2020 record crop production.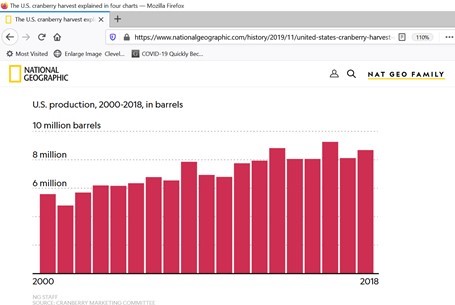 Climate change may indeed be coming for New England's cranberries. If it is, however, it is coming to aid cranberry farmers producing more and more cranberries.