Here is a win for Climate Realism and sanity. On Tuesday, March 15, Sarah Bloom Raskin, President Joe Biden's nominee to be the Vice Chair of Supervision at the Federal Reserve, withdrew her nomination.
Her withdrawal comes just one day after Senator Joe Manchin (D-WV) announced he could not support her nomination due to her stance on energy in the era of sky-high inflation and gasoline prices.
On Heartlands website, Stopping Socialism, correspondent Star Parker had this to say about the hidden agenda and risks behind Raskin's nomination to the Fed:
Raskin doesn't see her potential new role merely as supervising a smooth-running economy and banking system. She sees her role as prophet and navigator of America's future.
…
Raskin is convinced she knows the future. She questions, for instance, why oil and gas companies received credit and capital infusions from the government during the coronavirus crisis along with other industries.
"The decision to bring oil and gas into the Fed's investment portfolio not only misdirects limited recovery resources but also sends a false price signal to investors about where capital needs to be allocated."
"Why is the Fed Spending So Much Money on a Dying Industry? It should not be directing money to further entrench the carbon economy," reads the headline of her New York Times article.
In addition to her unwarranted dismissal of the value of the oil and gas industry, which she labeled "dead," Parker also notes potential corruption taints Raskin's nomination:
Meanwhile, Raskin's husband, Rep. Jamie Raskin, has been hit with an ethics violation charge for failing to report the sale of stock by his wife, cashing in for $1.5 million, in a firm under supervision by a federal agency that she used to lead.
The most troubling issues surrounding Raskin's nomination is that she is an alarmed climate zealot, who wanted to bring "climate change" into the Federal Reserve. According to a Washington Post article, titled "Fed nominee Sarah Bloom Raskin wants the Fed to tackle climate change risks," Raskin seems to think "climate change" will destroy our economy:
"In her writing and public remarks, Raskin has highlighted the economic and financial stability risks tied to climate change. In a column published in September, she wrote that "financial regulators must reimagine their own role so that they can play their part in the broader reimagining of the economy."
"If we ignore climate change, we in essence destroy the economy,"
Her withdrawal has dashed hopes on the left for having control over the nation's money supply in the name of "climate change." In response to the withdrawal, David Arkush, managing director of Public Citizen's Climate Program, issued the following statement in a press release:
As climate harms push into an ever-larger proportion of our social and economic lives, so too does climate denial. At the behest of the oil and gas industry, Senate Republicans and Senator Manchin smeared and killed the nomination of the most qualified person in the country to lead the U.S. through our present economic and financial stability challenges as Vice Chair for Supervision because she had the temerity to voice aloud simple realities around climate change that most regulators agree with. Their behavior is disgraceful.
The "simple climate realities" coming from the Biden administration since his inauguration in January 2021 have involved shutting down and regulating the fossil fuel industry. The results are plain to see, and were detailed in The Heartland Institute's recent publication, "Biden Energy Policies Cost U.S. Households More Than $1,000 In 2021." The graph below shows what has happened to the price of gasoline, after Biden has enacted policies to restrict supply.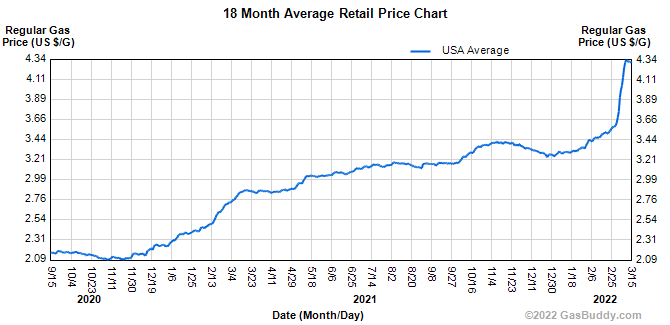 Source: https://www.gasbuddy.com/charts
As they did when Saule Omarova, Cornell law school professor, facing similar concerns, withdrew from consideration as Biden's nominee as Comptroller of the Currency, the American people have dodged a bullet with Raskin's withdrawal.
Had they been approved for their posts, combined, Omarova and Raskin could have imposed a "Great Reset" on the banking sector, forcing it to place scientifically implausible climate concerns above their missions of promoting national economic development and growth, and businesses' and individuals' own choices about how to save, spend, and invest.