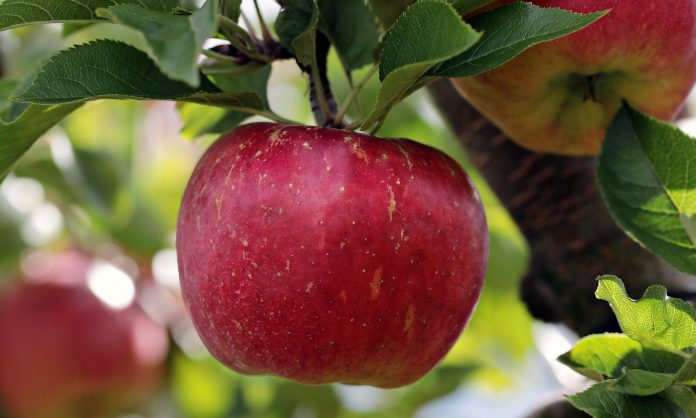 A Google News search for the term "climate change," today turned up a story published by The Drop, a publication of the multimedia outlet, OZY, which claims Kashmir's apple production has dropped due to climate change. This is false. Data from the United Nations shows that, amid normal annual ups and downs typical of agriculture, apple production in India-administered Kashmir has increased considerably over the recent period of modest warming.
In The Drop story, titled, "Bad News from the Himalayas, Unfruitful," by Quratulain Rehbar, the author interviews some apple growers whose orchards crops have suffered declines in recent years. She attributes the decline to climate change. Rehbar writes:
In three of the past four years, Kashmir Valley — which produces 75 percent of India's apples — has witnessed major early snowfalls. In the late autumns of 2018, 2019 and 2021, early snows destroyed orchards across the valley. Researchers say Kashmir's erratic weather is the result of climate change. (emphasis mine)
But it's not only early snows affecting Kashmiri farmers, and especially apple growers. Heavy rainfall, hailstorms and even periods of drought have upset crop yields. Some farmers have lost as much as 40% of their crops in the past three years, reports say.
Seventy-five percent of India's apples are grown in Kashmir. Data from the U.N. Food and Agriculture Organization clearly demonstrate from 1990 through 2021, as weather has waxed and waned, apple production in India increased substantially, growing more than 157 percent. (see the figure below)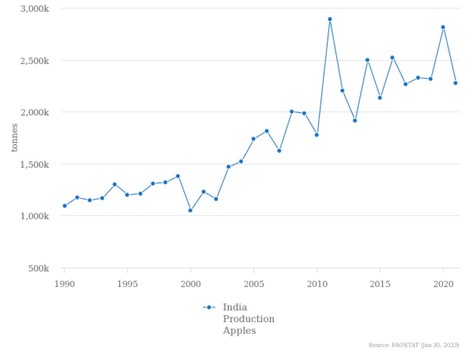 Indeed, the FAO's data shows that 2020 was India's second highest year of apple production since the U.N. first began keeping records in 1961. India's top apple crop year was recorded in 2011, also during the period of recent climate change.
Although 2021 and 2022 may have been down years for apple production in Kashmir, farming is fickle, with crop production waxing and waning from year-to-year dependent on many factors, especially weather conditions. Surely The Drop understands this. A year's crop decline is a symptom of weather, not climate change, which are different as Climate Realism has discussed in multiple articles, here and here, for example. Climate is the average weather over a minimum of a thirty-year period. Since India's apple crops have increased a great deal over the most recent period of recorded climate, and Kashmir is the source of the vast majority of India's apple crop, one can only conclude climate change is contributing to Kashmir's recent record setting apple crops, not undermining apple production.