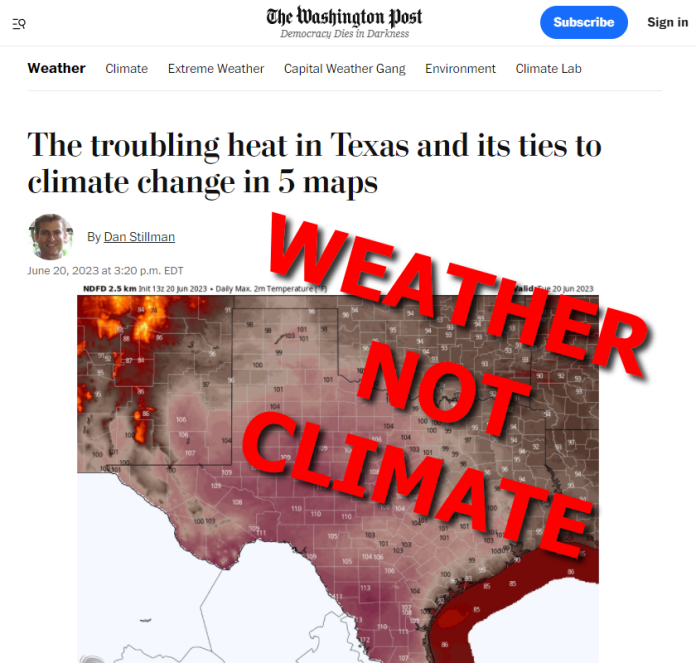 The Washington Post (WaPo) has published a story claiming that the heat wave in Texas this week is "tied to climate change." This is false – it is a weather event, not a climate event. Texas experiences heatwaves on a regular basis, and history shows that Texas experienced event greater heat waves in both intensity and duration long before climate change ever became an issue.
The WaPo story, written by reporter Dan Stillman is titled "The troubling heat in Texas and its ties to climate change in 5 maps" and makes these claims:
Texas is no stranger to searing heat, but the heat wave that arrived last week is becoming exceptional for its intensity and duration. Air temperatures have soared past 100 degrees for multiple days, even exceeding 110 in spots, and the sizzling heat index has reached as high as 125. Excessive-heat warnings are in effect into the middle of the week for a massive chunk of the state and could be extended.
…
The scientific literature is replete with studies connecting the intensity, frequency, duration and size of heat waves such as this to human-caused climate change.
…
The heat dome responsible for the ongoing Texas heat wave is one of the strongest of all time and, according to WFLA-TV chief meteorologist and climate specialist Jeff Berardelli, is "basically impossible" without climate change.
In essence, Stillman cites no actual scientific papers, and bases his entire linkage of the Texas heat wave to climate change on the opinion of one off-hand remark by a local TV meteorologist.
If in fact, such heat domes are "basically impossible without climate change," how would they explain the famous 1980 United States Heat Wave, affecting Texas, which occurred long before climate change was ever an issue?
In Dallas/Fort Worth, Texas, high temperatures exceeded 100 °F (38 °C) a total of 69 times, including a record 42 consecutive days from June 23 to August 3,[4] of which 28 days were above 105, and five days above 110. The area saw 29 days in which the previous record high temperature was either broken or tied, including its all-time high when the temperature hit 113 °F (45 °C) on three consecutive days (June 26 and 27 at DFW Airport and June 28 at Dallas Love Field).
According to the National Weather Service in Dallas, that by tracking Annual and Consecutive 100° Days, it is clear there have been quite a number prolonged and intense heat waves before. In other words – these events are normal for the state.
The July 1936 Heat Wave, said to be the most intense heat wave in American history, claimed the lives of 5,000 people across the U.S., mostly in the upper Midwest. Surprisingly, Texas had below normal temperatures during that month. This illustrates two things:
Intense heat waves have happened well before "climate change" was ever an issue.
The location and duration of heat waves is weather pattern dependent.
Indeed, the TV meteorologist who said the current heat wave was "basically impossible without climate change" apparently hasn't studied weather history.
Here is another important point. Heat waves are not global, they are local or regional. This map from Weather.gov illustrates the dichotomy associated with how weather patterns, not climate change, rule the temperature at synoptic weather scales. In the map below, circled in red, you can clearly see the Texas heat wave, while to the west, circled in blue, you can see parts of California, Idaho, Nevada and Oregon are suffering from freeze and frost warnings.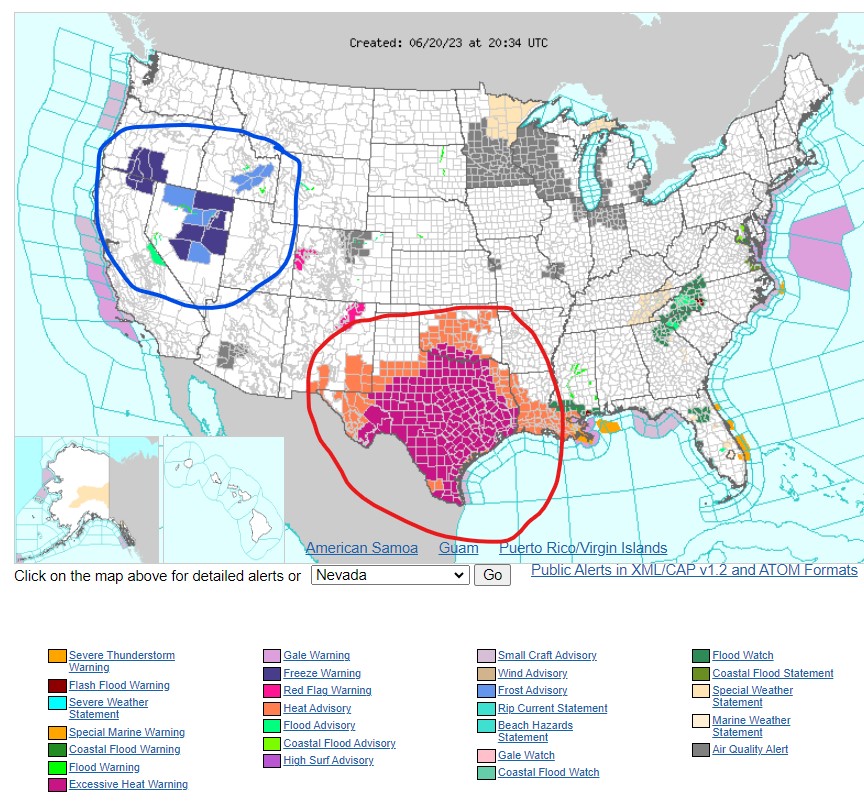 Did climate change only cause the Texas heat wave and not the freezing, or is WaPo simply confusing the difference between weather and climate? It seems they are.
In Climate at a Glance: Weather vs. Climate there is this figure the European Space Agency (ESA) that illustrates the difference: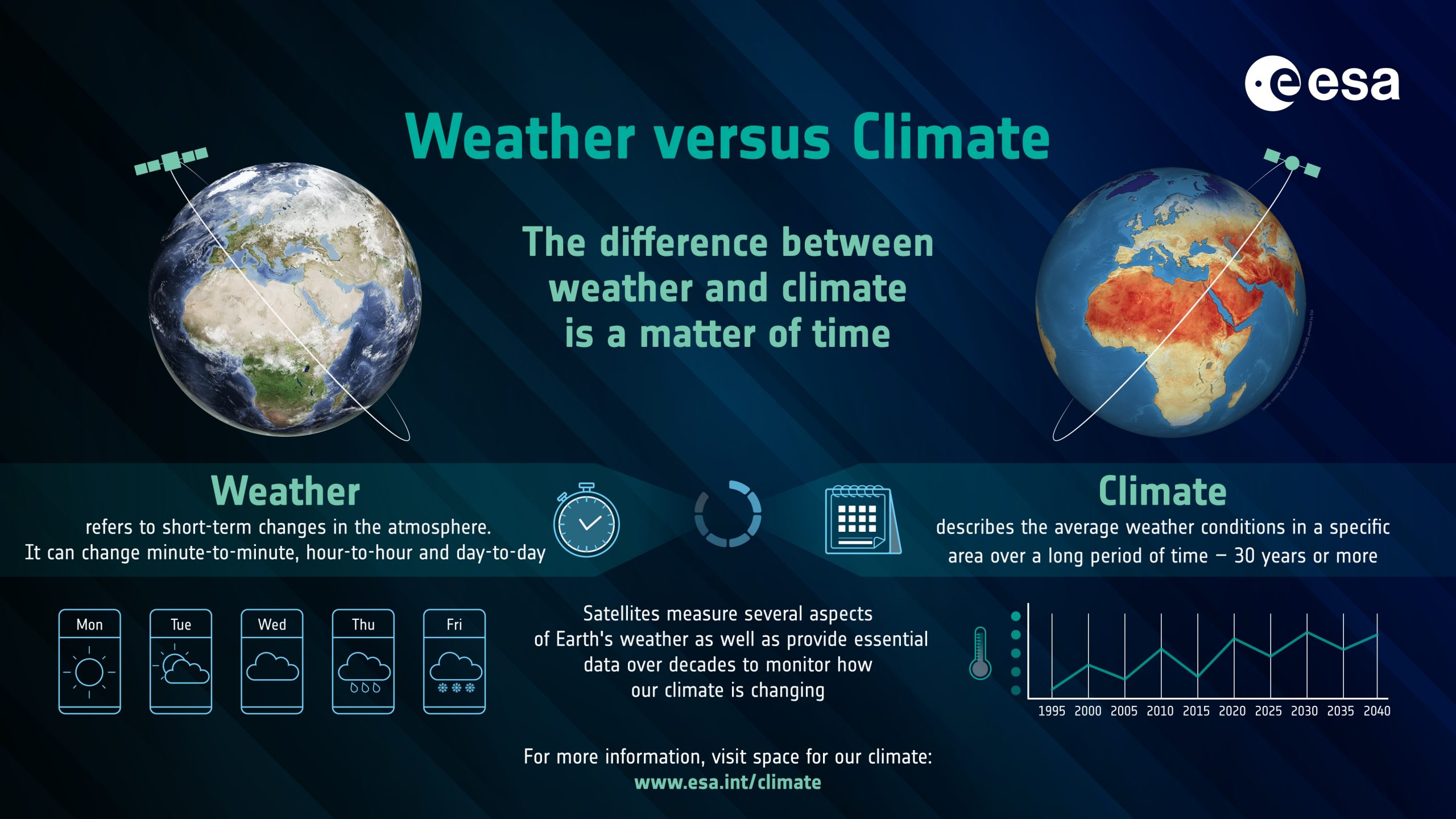 The key takeaway:
What we experience on a day-to-day basis are weather events, not climate events. Weather is not climate.
Further, in Climate at a Glance: U.S. Heatwaves there is this figure: Heat Wave Index (HWI) for the Contiguous United States, 1895–2020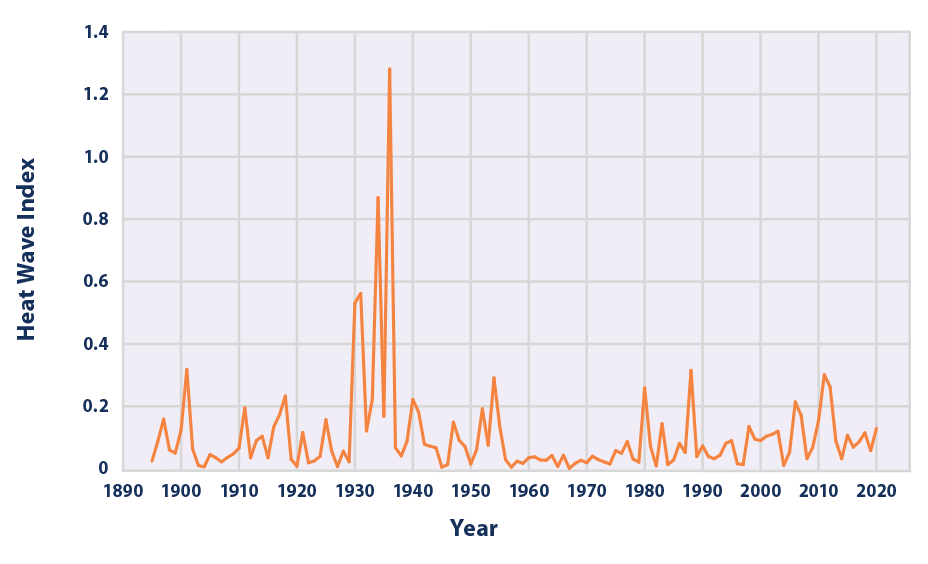 The source of that HWI figure is none other than the U.S. Environmental Protection Agency.
From that figure we can deduce:
In recent decades in the United States, heat waves have been far less frequent and severe than they were in the 1930s.
The all-time high temperature records set in most states occurred in the first half of the twentieth century.
This data destroys the claim that the current heat wave was "basically impossible without climate change." Had Stillman, his sources, or WaPo editors bothered to look at the temperature data presented by history, or the definition differences between weather and climate, perhaps they would not have made such foolhardy claims.
Unfortunately, their lack of diligence did little more than create a climate scare story which badly misinformed their readers.