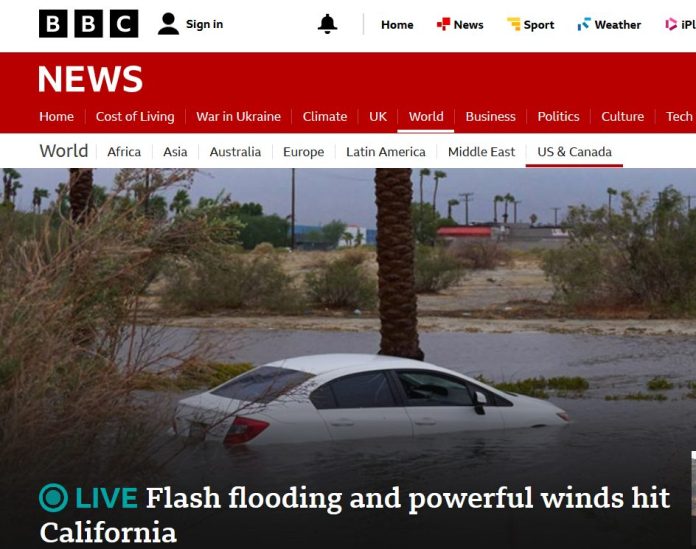 Editors note: Despite what the BBC and other media outlets would like you to believe, history and data show that a tropical storm hitting Southern California was neither unprecedented, nor a record breaker. Originally published on Not a Lot of People Know That.
---
Guest essay by Paul Homewood 
There are huge amounts of misinformation in this BBC report: Flash flooding and powerful winds hit California – BBC
Source: https://www.bbc.co.uk/news/live/world-us-canada-66566483
The BBC wants you to think this is all record breaking and unprecedented. It is not.
Hilary is a very similar event to the 1939 tropical storm, El Cordonazo, which followed a similar path and dumped similar amounts of rain.
Indeed that was one of four tropical storms to hit Southern California in 1939, although the others did not make landfall.
So much for the silly little theory from Ms. Treseder, our ecology expert. Maybe the BBC should get advice from proper hurricane experts in future, who would tell them that these storms are rare, but sometimes happen.
The claims about record rainfall are bogus as well. The BBC focus heavily on "record rainfall" in Palm Springs, but even that is a fake claim. They say that 3.18" fell on Sunday, but that was less than the 3.22" recorded in 1926:
In any event, one cherry picked station does not prove anything at all, The BBC also claim that this was the wettest August day on record: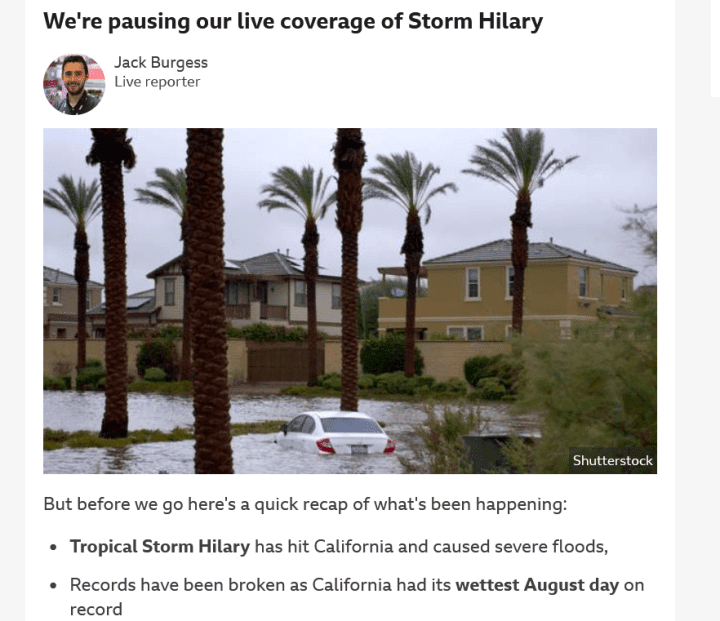 This, of course, is utterly dishonest, as it was nowhere being a record in Los Angeles, or California as a whole, merely a record for August at most.
In Los Angeles, for instance, daily rainfall of 2" is nothing unusual at all:
As for California's wettest day, this is an outright fraud .Hilary dumped 11" or so up in the mountains, but at lower levels it was around 2 or 3"  at most, as the BBC map indicates:
http://www.wpc.ncep.noaa.gov/discussions/nfdscc4.html
But the 1939 storm was much more devastating, with 5" in Los Angeles:
https://en.wikipedia.org/wiki/1939_California_tropical_storm
And the devastation from Kathleen in 1976 was even greater:
https://en.wikipedia.org/wiki/Hurricane_Kathleen
Rainfall from Hilary has not reached anything like the 375mm (14.76″) recorded in 1976.
So once again we find that the BBC can get away with playing fast and loose with the facts, just so that it can promote its political agenda.