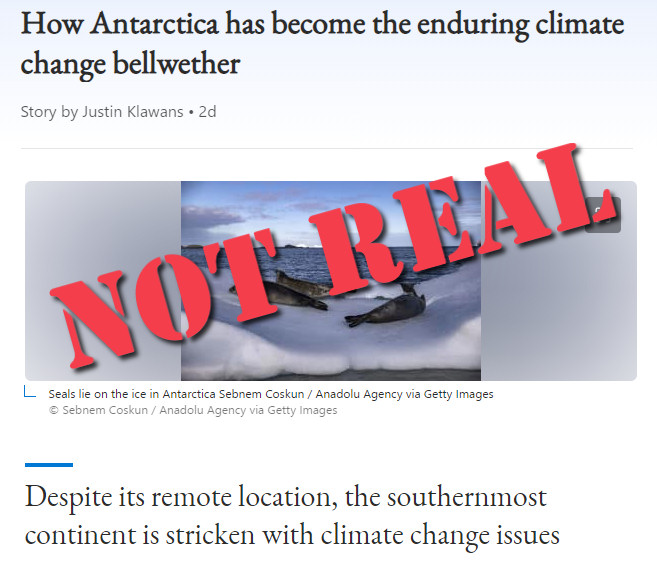 The headline of August 14th article in THE WEEK, distributed by MSN News, was "How Antarctica has become the enduring climate change bellwether." The claim is false, being based not on peer reviewed science or real-world data, but rather it reflects nothing more than the opinion of the author. Actual data refutes the claimed connections between climate change and what is occurring in Antarctica this year.
First, let's look at some of the false claims in the article.
Antarctica's climate change issues were recently highlighted by a new study from the journal Frontiers in Environmental Science. The study, co-authored by experts from the University of Exeter, the British Antarctic Survey, the University of Johannesburg and others, concluded that it's "virtually certain that future Antarctic extreme events will be more pronounced than those observed to date" unless steps are taken to abate climate change.
…
One of the biggest issues in Antarctica is undoubtedly the rapid melting of its ice. It was recently reported that sheets of Antarctic ice are melting three times as fast as they did 30 years ago. Sea ice levels hit a record-low in 2017, and "the four lowest annual minimum sea ice extents of the satellite era have occurred since, with both 2022 and 2023 setting new records," the study said.
The "…new study from the journal Frontiers in Environmental Science." cited by Justin Klawans of THE WEEK isn't scientific research, it's an opinion piece, nothing more than a compendium of other research, combined with opinions about the other research. Opinion is not science. The title itself, "Antarctic extreme events," is a dead giveaway, but the "Publisher's note", which distances itself from the study says all you really need to know about it:
All claims expressed in this article are solely those of the authors and do not necessarily represent those of their affiliated organizations, or those of the publisher, the editors and the reviewers. Any product that may be evaluated in this article, or claim that may be made by its manufacturer, is not guaranteed or endorsed by the publisher.
This is the kind of disclaimer for opinion pieces or sales pitches, not scientific research.
Second, it should be noted that the reporter Justin Klawans referenced yet another THE WEEK article, known as a "Speed Read" for his claims, rather than doing original research himself.
And the article he referenced, seen in a screencap below, was chock full of inaccuracies itself.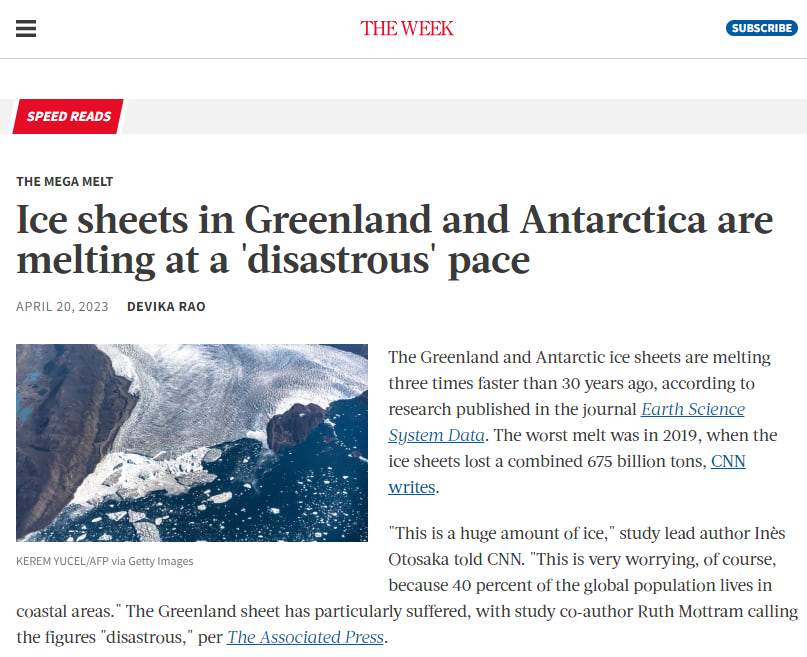 The biggest inaccuracy is that the piece cites an Earth Science System Data report and CNN, saying (bold mine): "The worst melt was in 2019, when the ice sheets lost a combined 675 billion tons, CNN writes."
The inaccuracy here is the lack of reporting the true perspective of 675 billion tons of melt. Here are the numbers.
According to the National Snow and Ice Data Center (NSIDC): "The Antarctic Ice Sheet measures nearly 4.9 kilometers (3 miles) at its thickest point and contains about 30 million cubic kilometers (7.2 million cubic miles) of ice."
Using reference values, a cubic kilometer of ice weighs approximately 0.92 metric gigatons, meaning that the Antarctic ice sheet weighs about 24,380,000 gigatons, or 24380000000000000 tons. Doing some simple math, let's look at how much 675 billion tons of melt actually is compared to all of the massive ice in Antarctica:
675000000000 tons ÷ 24380000000000000 tons = 0.00002768662
X100 for percentage = 0.002768662% of the total mass of Antarctic ice.
In simpler terms, the ice sheet melt in 2019 was about 0.003% of the total ice in Greenland and Antarctica. Scary, isn't it? That number is well withing standard deviation, and essentially zero in the grand scheme of things.
In THE WEEK article it was claimed: "It was recently reported that sheets of Antarctic ice are melting three times as fast as they did 30 years ago."
The numbers: 0.00002768662 x 3 = 0.00002768662 for the percentage, times 100 = 0.008305986%
So, three times nearly nothing is still nearly nothing at 0.008%
Of course, the media never bothers to mention the real comparison or the percentage, because that would destroy the narrative. Nor do they mention that during the next winter, much of that melted ice comes back when water refreezes or snow deposits onto the ice sheet during winter storms.
At Climate at a Glance, both Greenland and Antarctica melt has been covered in these two graphs: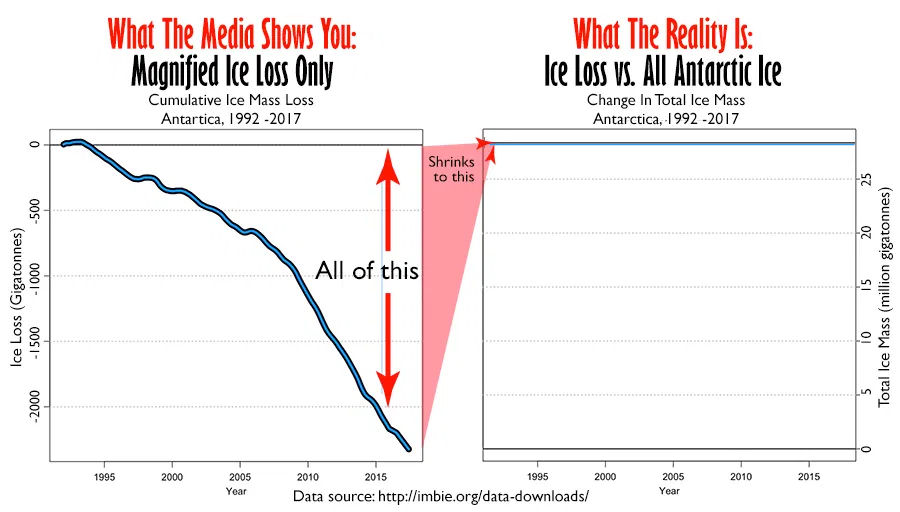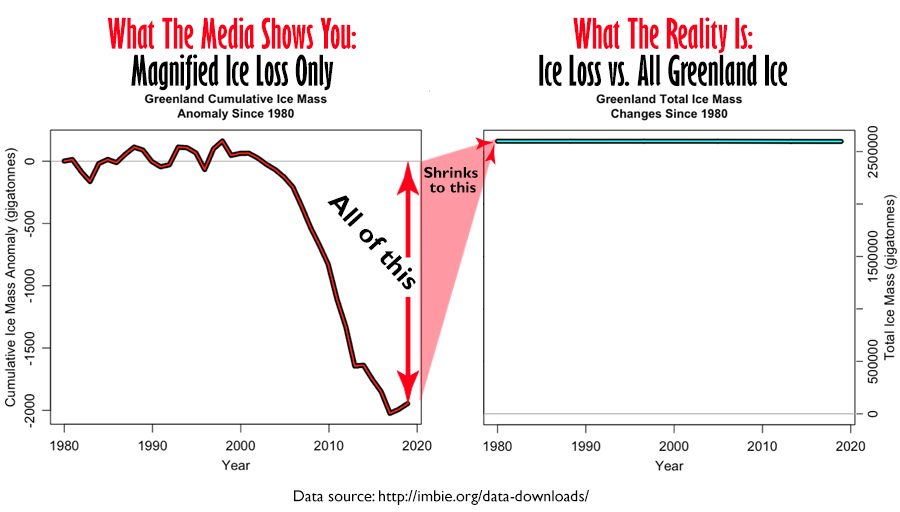 So, if you are worried about the loss of ice in Greenland or Antarctica as meltwater contributing to sea level rise as the media would have you believe, don't be. Further, events that occur in single years, or even in multiple years are indicative of climate, which require a 30-year period of data to be valid as a trend.
Finally, there's this from THE WEEK:
There's conclusive evidence that the temperature in Antarctica is rising, according to the study. The most extreme heat wave ever seen globally, the study stated, "occurred over East Antarctica in March 2022 when surface temperature anomalies of up to [101.3 degrees Fahrenheit] were observed." The highest-ever temperature on the Antarctic mainland was recorded in February 2020, when a reading of 64.9 degrees Fahrenheit was observed.
Note what they added: [101.3 degrees Fahrenheit]. It is important to understand that isn't an actual air temperature that day, it's a departure from normal, and normal is still very far BELOW the freezing point of 32°F when you subtract 64.9-101.3 = -36.4°F.
Is it surprising that on the very northernmost tip of Antarctica, well removed from the main ice mass, there might be a weather event that would create that warmer temperature? Buried in the article is the reason: "The wave of warm area seems to be tied to a "foehn," or a rush of air that comes down from a slope or mountain and compresses air to warm it, the WMO's climate extremes expert told The Associated Press."
Again, weather, not climate, and that temperature was certainly not a threat to melting the huge volume of the Antarctic ice sheet, hundreds to a thousand plus miles away, as seen in Figure 2 below: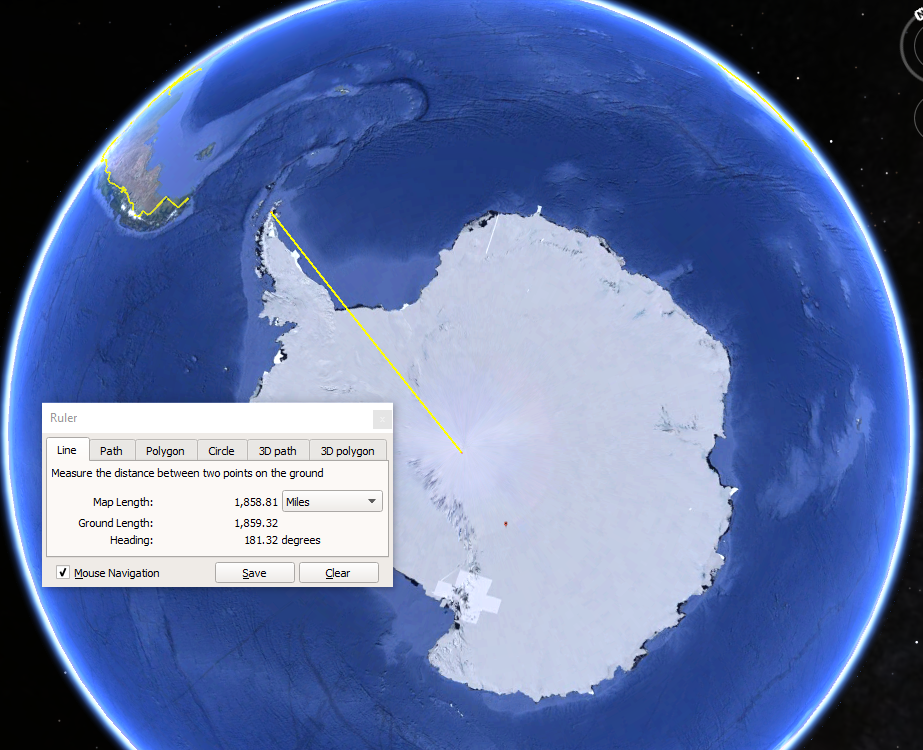 But the media won't tell you that. They also won't tell you that the melting they report and the threats from sea-level rise they insinuate are minuscule. Nor do they tell you that sea ice levels are driven by wind and ocean currents, which shift from year to year, and that sea ice does not displace water, and thus contributes nothing to sea level rise. Nor will they tell you that their measurements start from a peak in sea ice measurements just a couple of years after the continent's ice sheet has set repeated records of sea ice extent, also during the recent period of modest warming. Indeed, NOAA reports that the overall trend for sea ice is close to zero in recent decades. Nor do they tell you that while West Antarctica and the Antarctic Penisula are losing ice, due in large part to subsurface volcanic activity, the vast bulk of the continent is gaining ice mass.
The sensationalizing of climate science, as the left-wing media has so successfully done, undermines real science, and the real facts.
The sadder truth is, the mainstream media are complicit in the ongoing, widespread distortion of science encouraged by the politically powerful. This does serious disservice to the American people, whom they are supposed to be protecting as "the fourth estate," viewing big government initiatives with a jaundiced eye and skepticism in order to provide a check on wealthy, politically connected, elites. Big government cheerleading has replaced investigative journalism.