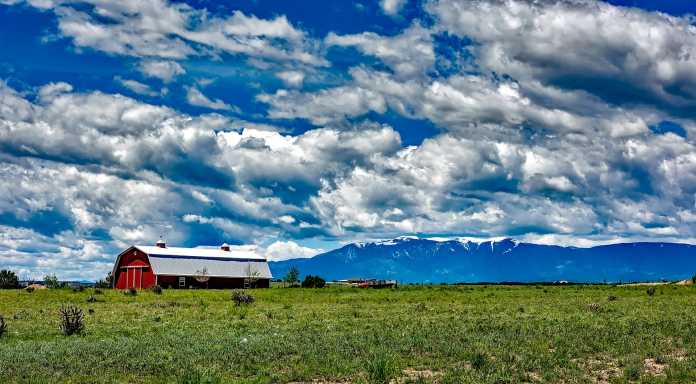 Among the top Google News results today for "climate change," The Denver Channel published an article asserting climate change is devastating crop production. The Denver Channel is either inexcusably unaware of on-point United Nations crop data, or The Denver Channel is deliberately telling falsehoods. Objective data show consistent, steady growth in global crop yields, with new records set virtually every year. Tally The Denver Channel as yet another purveyor of fake climate news.
The Denver Channel article is titled, "Farmers across the world worried about climate change impacting their crops." The theme of the article is summarized by a quote the article provides from a Syngenta spokesperson: "Climate change is impacting agriculture and farmers abilities. … It's coming down to, especially in the United States, is the unpredictable weather patterns that are beginning to emerge."
The article especially emphasizes drought as ruining American crop yields. "It's drier than it used to be," says a struggling farmer in the article.
Those are bold assertions about climate change, drought, and negative crop impacts. Let's take a look at the objective data.
Global crop yields during the period of modest global average warming have boomed. As my colleague James Taylor, president of The Heartland Institute, recently noted in a Climate Realism article, the United Nations Food and Agriculture Organization (FAO) reports global cereal production (the vitally important corn, wheat, and rice crops) set an all-time record in 2019. Moreover, FAO expects 2020 crop production to surpass the 2019 record. See Figure 1, below.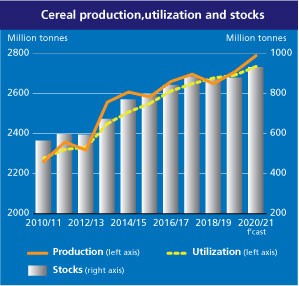 The same game-changing growth in global production is occurring in the United States. Yields per acre in the United States are 50 percent higher than was the case just 20 years ago, and double what they were in 1980. New records are set virtually every year. See Figure 2, below.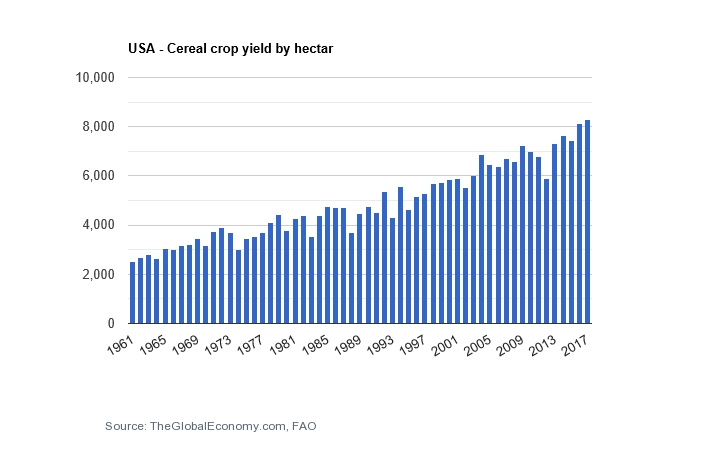 The good news about crop yields tell us that the Denver Channel's claim about worsening drought is likely false. Here are some additional facts to support that:
As reported in, Climate at a Glance: Drought, the United States is undergoing its longest period in recorded history without at least 40 percent of the country experiencing "very dry" conditions. Peaks in drought intensity occurred around 1978, 1954, 1930, and 1900 – between 40 and 120 years of global warming ago. By contrast, in 2017 the United States set a record for its smallest percentage of land area experiencing drought in recorded history. Then, the United States broke that record again in 2019.
To be fair, many farmers around the world likely do fear the effects of climate change on their livelihoods. If they do, however, their fear is driven by media alarmism like the Denver Channel article rather than by nonexistent declines in real-world crop production.