Reuters claims in a newly published article that climate change is wiping out soybean crops in India, causing protests and civil unrest. In reality, Indian farmers are enjoying outstanding climate conditions and are on track for yet another year of record crop yields.
In Reuter's story, "India's soybean farmers demand help as rains and pests wipe out crops," the author writes, "Soybean farmers in central India are seeking compensation from the government after a popular locally developed seed variety proved unable to withstand the erratic rains and pest attacks that hit the region this monsoon season. As climate change brings more erratic weather – and as popular high-yielding crop varieties prove unable to stand up to climate extremes … crop swaps will be necessary, climate experts said."
The story continues, "Hundreds of farmers who lost huge swathes of their crops around the state of Madhya Pradesh protested for nearly two weeks in August – some banging metal plates and blowing conch shells, while others set fire to their ruined crops."
The fact that a particular group of farmers seeks handouts from the Indian government is not proof – or even scientific evidence of – devastating climate change. The same applies when Reuters claims anonymous "climate experts" say crop yields are being decimated by climate change. Instead, actual crop data tells an accurate and completely different story than what Reuters claims.
According to the United Nations Food and Agriculture Organization, Indian soybean production has more than tripled during the past 25 years. That is climate-induced crop devastation?
In fact, the good news applies to all Indian crops, not just soybeans. As shown in the chart below, yields per acre for the Big Three cereal crops of rice, corn, and wheat have increased by 50% in India during the past 25 years. New records for yields per acre are being set almost every year.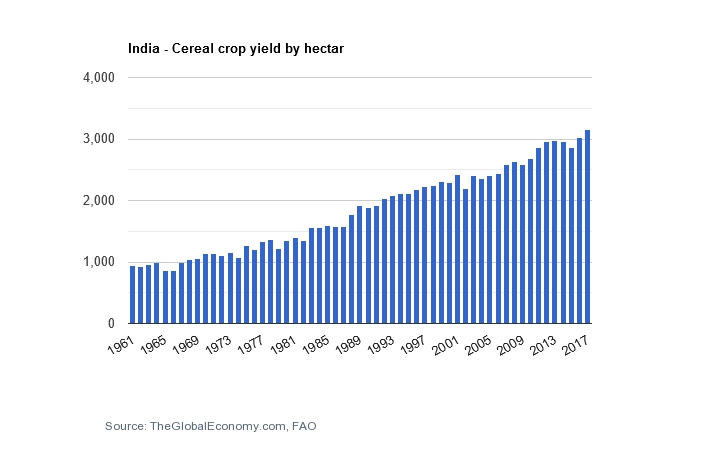 The outlook is even better for Indian farmers this year. Agricultural experts are predicting record production for corn, wheat, and rice production in India this year. Moreover, agricultural experts are making it clear that ideal weather and climate conditions are the reason why.
"Sources attribute the increase to favorable 2019 monsoon rainfall and weather conditions during most of the crop year," reports World-Grain.com.
Even during the best of times for farmers, some farmers will fail to succeed. Undoubtedly, some farmers are simply bad at farming. Others may be unlucky to suffer highly localized poor weather. That's what happens, even during excellent general climate conditions. Neither of those factors indicate a climate crisis. Instead, the objective evidence shows Indian soybean production is growing ever-more-productive as the Earth continues its modest warming.
That is bad news for Reuters, but good news for the rest of us.