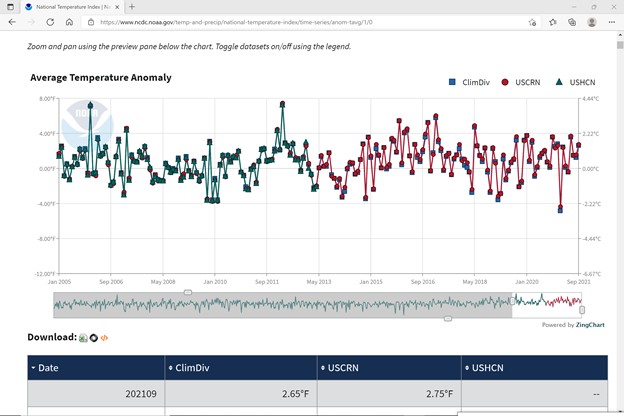 Among the top search results today for "climate change," Google News is promoting an article by the Guardian claiming global warming "stole" the American experience from many people during the past few years – as official data from the National Oceanic and Atmospheric Administration shows no recent warming in the United States. The misinformation promoted by Google News and climate activists is indisputably contradicted by the scientific data.
The Guardian article, published today, is titled "'The whole place feels wrong': voices from across America on what the climate crisis stole'." The subtitle is "In the six years since the Paris agreement, the climate crisis has rapidly accelerated. From catastrophes to slow transformations of familiar landscapes, lives everywhere have been upended."
The article highlights climate activists across America telling us how much recent warming has devastated their lives, especially in the six years since the Paris climate agreement. The article devotes 60 paragraphs to such subjective complaints, yet it does not once present any information on how much U.S. temperatures have risen during the past six years or during this century. Fortunately, the National Oceanic and Atmospheric Administration (NOAA) compiles such data, and the data show no warming at all. Presumably, this explains why the article presents no such objective data.
NOAA's National Temperature Index Time Series presents U.S. temperature data going back to January 2005, when NOAA implemented its highly accurate Climate Reference Network (CRN) of U.S. temperature stations throughout the United States. The CRN is immune from corrupting influences like nearby urban heat islands and land development. According to the NOAA data, temperatures show no trend during this 17-year period.
How can global warming impacts have "rapidly accelerated" throughout the United States in recent years if temperatures haven't risen at all? Perhaps it is merely that climate alarmism has rapidly accelerated in recent years.
The most illuminating part of the article is a quote from Michael Oppenheimer, an alarmist scientist at Princeton University who has helped shape United Nations climate reports and who is presented by the media as a climate science authority. Talking about New York City, Oppenheimer states, "That people can't go to sleep in the richest city in the richest country and feel safe from drowning is abominable on so many levels…."
Nobody is drowning in their sleep in New York City, or anywhere else in America, due to climate change or anything else. It may perhaps be technically true that people in Manhattan skyrises go to bed terrified that they may drown in their sleep due to climate change, but that is more an indictment of climate alarmists like Oppenheimer presenting misinformation than anything with a semblance of scientific reality.
No, Google News and the Guardian, warming temperatures have not stolen anything from the American experience in recent years, except perhaps climate activists' reputation for truthfulness.