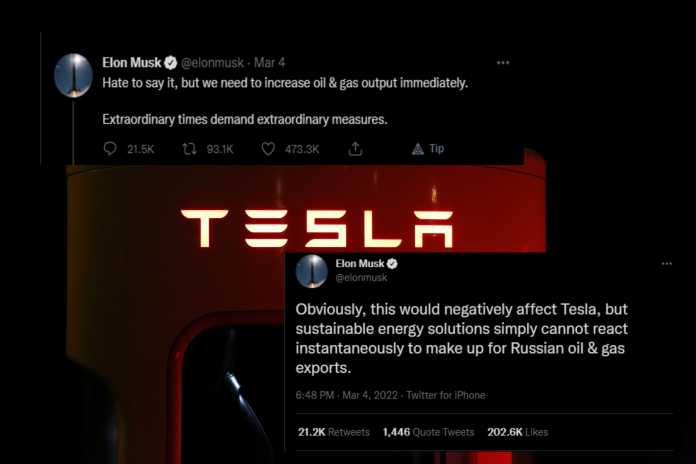 In the wake of rising oil prices, last Friday evening Tesla CEO Elon Musk posted to Twitter that he thought the United States should increase oil and gas production. Musk is correct and his admission is significant, coming from the head of largest, most successful electric vehicle manufacturer in the world. Tesla is a company that stands to benefit from higher oil and gas prices. Musk's tweet indicates he better understands America's real energy needs and the damage high oil and gas prices impose on the economy, than either the corporate media or the Biden administration.
Musk, who is a vocal public investor in "green" energy technology, says despite lower gas prices having the ability to negatively impact Tesla, sustainable energy sources cannot quickly overcome America's dependence on Russian oil and gas imports.
"Hate to say it, but we need to increase oil and gas output immediately. Extraordinary times demand extraordinary measures," Musk said. "Obviously, this would negatively affect Tesla, but sustainable energy solutions simply cannot react instantaneously to make up for Russian oil and gas exports."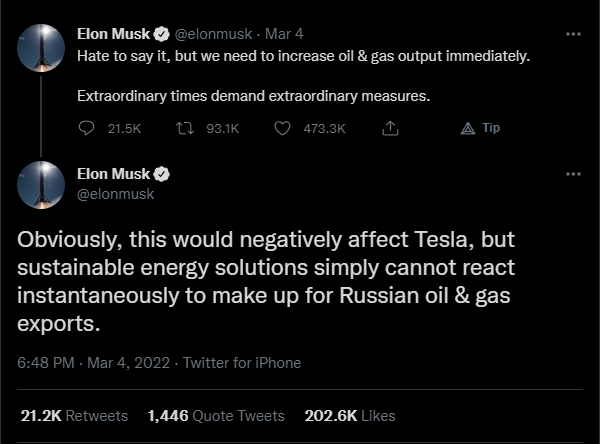 Musk is entirely correct that, except to the extent government interferes with oil and gas production, delivery, and use, the oil and gas industry is able to quickly react to shortages in supply.
Even the International Energy Agency (IEA) has suggested as much, releasing a 10-Point-Plan for the European Union to replace Russian oil and gas that emphasizes the need to quickly ramp up other sources of fossil fuels to replace the Russian gas. For the short-term, the study recommends restarting previously shuttered coal-fueled-power plants, and replacing Russian natural gas by converting gas-fired plants to burn oil.
Oil prices began climbing shortly after Biden became President, well before the Ukraine war began. This was due in part to post-pandemic demand recovery. However, as detailed in a recent report from The Heartland Institute, the most important factor driving higher oil and gas prices were a series of anti-fossil fuel policies implemented by the Biden administration. Heartland's analysis found that the average American household spent $1,000 more on energy costs in 2021 than the year prior, largely due to Biden's energy policies.
According to NASDAQ data crude oil futures have risen by almost twenty-seven dollars since The Heartland Institute's analysis was published, just three weeks ago. Rigzone reports that some oil traders are predicting that crude could reach $200 per barrel before the end of March.
Meanwhile, the White House continues to say that domestic production is not their focus. Instead, ironically in the context of Musk's statements, Biden said during the State of the Union Address he was interested in increasing subsidies for electric vehicles.
"Let's provide investments and tax credits to weatherize your homes and businesses to be energy efficient and you get a tax credit; double America's clean energy production in solar, wind, and so much more; lower the price of electric vehicles, saving you another $80 a month because you'll never have to pay at the gas pump again." Biden said.
These changes will neither result in lower gas prices quickly, nor defund Putin's war in the Ukraine. As explored in a new report from The Heartland Institute released last week, Biden's energy policies have resulted in the United States importing 24 percent more oil from Russia than it did during the last year of Donald Trump's presidency. In total, U.S. oil imports from Russia ship $74 Million to the Putin regime, enough to purchase 20 T-14 tanks each day.
This is not the first time Biden dismissed the idea of increasing domestic oil and gas production to reduce oil prices and shore up the U.S.'s energy independence. Just last summer the Biden administration asked OPEC to increase their production to manage rising oil prices, while rejecting Republican calls to remove barriers the administration had erected to domestic oil and gas production and delivery. Ronald Stein, P.E., describes the bipolar Biden policies on oil in an article "Biden Continues to Flip-Flop on Crude Oil Policies."
"The domino effect of tinkering with the supply chain of fossil fuels is supply shortages and soaring prices for not only electricity, but for the thousands of products that support the entire medical industry, all branches of the military, airports, electronics, communications, merchant ships, container ships, and cruise liners, as well as asphalt for roads, and fertilizers to help feed the world." Stein said.
Despite normally championing green energy sources in the name of ending climate change, Elon Musk has poignantly identified a solid solution to the current rapid rise in oil prices due to the war in Ukraine.