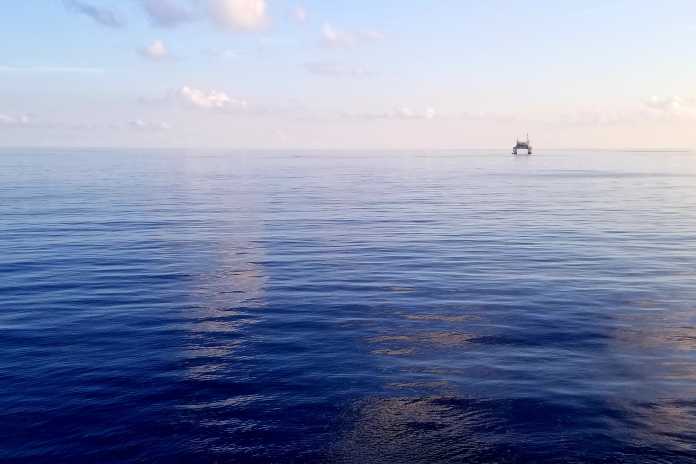 Rigzone reports the Biden administration's recent decision to cancel the sale of several offshore oil and gas leases in the Gulf of Mexico and Alaska is leaving the offshore oil industry concerned about the future of offshore oil exploration and production. Rigzone's analysis shows the Biden administration's policies are inconsistent with its recent messaging concerning how the United States will help Europe wean itself from Russian oil and gas and give American consumers relief from high energy prices. The policies also display lack of understanding about the causes of "unused" leases.
In an article, titled "USA Lease Sale Cancellation Leaves Industry in Limbo," Rigzone asked the Department of the Interior (DOI) why certain lease sales, previously been planned under the Obama administration in Alaska and the Gulf of Mexico were cancelled. The DOI's dismissive response blamed lack of interest by industry and federal court actions:
Due to lack of industry interest in leasing in the area, the Department will not move forward with the proposed Cook Inlet OCS oil and gas lease sale 258. The Department also will not move forward with lease sales 259 and 261 in the Gulf of Mexico region, as a result of delays due to factors including conflicting court rulings that impacted work on these proposed lease sales.
The DOI's claim about lack of interest is odd at best and disingenuous at worst since the government can't gauge industry's interest in a particular lease sale or block until they actually offer it up for auction. Even if the block in Cook Inlet had been offered for lease in the past and lacked bidders, that may have been due to low prices or other conditions at the time that made those blocks unattractive then; conditions that may be far different now.
The court rulings DOI referenced are most likely a June 2021 Louisiana federal court ruling which found the Biden administration's moratorium on Gulf of Mexico lease sales illegal, lifting the ban in January of 2022. A separate ruling in January 2022, by a different federal judge, blocked a large lease sale in the Gulf of Mexico, with the judge finding the emissions impacts of the potential development were not properly accounted for. This latter ruling is strange, because the law mandating regularly scheduled lease sales does not require the federal government to account for greenhouse gas emissions before putting leases up for sale.
The DOI also claimed the lease sales were unnecessary because many existing leases are going unused, with Rigzone writing the DOI claims that "as of May 1, of the 10.9 million offshore acres under lease, the industry is not producing on 8.26 million acres, or 75.7 percent[.]"
This is a bizarre statement for supposed experts at the DOI to make, implying that "non producing" blocks are evidence that further lease sales are not needed.
Rigzone's thorough  investigation into the reasons behind the non-producing leases found what The Heartland Institute has previously shown, each property or block can take years to complete:
Companies invest in multiple leases; each can cost tens of millions of dollars to explore;
Some non-producing leases have been explored and have come up dry;
Mapping and geologic models may need to be updated;
Companies still need to obtain drilling and other permits after winning a bid on a lease.
The Biden administration claims companies are currently sitting on 9,000 leases. What the Administration does not mention is that it is currently failing to act on more than  4,000 drilling plans submitted by industry for existing leases. It's unclear why industry would go through the expensive  permitting process on existing leases lacking them when the DOI is slow walking or denying permit applications they have already submitted.
Rigzone concluded about half the leases mentioned by the DOI are simply in the earliest stages of exploration, as opposed to DOI's implication that they are not being utilized. Also Rigzone notes, the Biden administration's incoherent, inconsistent energy policy is making it difficult for oil companies to find financing for those projects.
U.S. domestic production is needed to help balance the loss of Russian oil and gas from Europe and parts of the United States, as described by Climate Realism here, in the wake of the war in Ukraine.
The U.S. Energy Information Administration reports that the Gulf of Mexico provides about 15 percent of the total U.S. crude oil production, as shown in the chart below.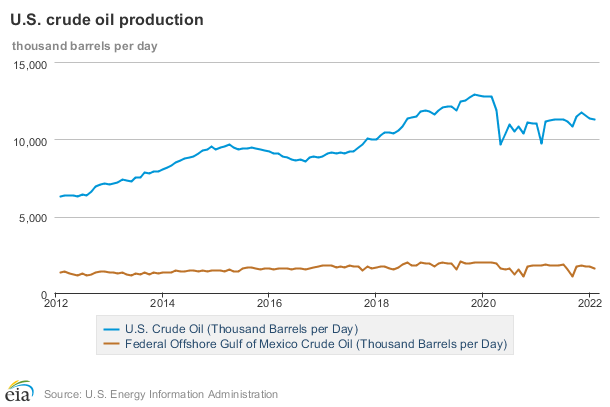 Despite President Joe Biden's public pronouncements that he wants to help Europe and American drivers, his anti-fossil fuel policies are leaving oil and gas companies uncertain about how to proceed with much-needed projects. Production is naturally declining from in many existing older wells. New ones will be needed to pick up the slack. If nothing replaces them, the United States and our allies will be facing a much more serious energy crisis than already exists.