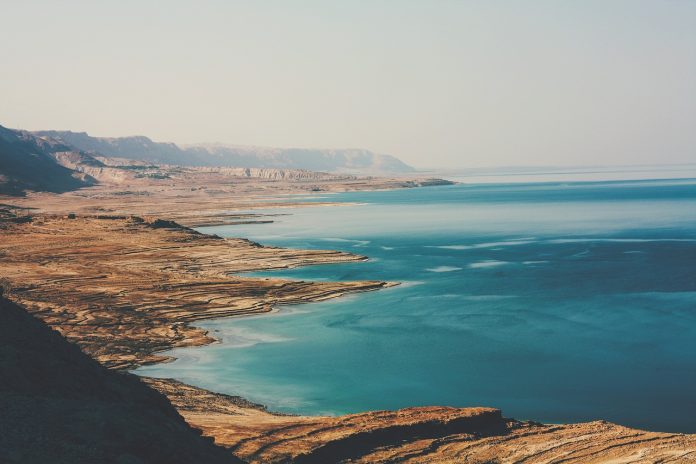 Among the top stories that Google News lists today for "climate change" is an article by the National Public Radio (NPR) website claiming climate change is causing the Dead Sea to dry up. While the Dead Sea is receding – as it has for many decades – the reason the decline in sea level is accelerating is the deliberate water diversion by Jordan and Israel. There are no changing trends in rainfall in Jordan and Israel during recent decades. There has only been a very modest increase in temperatures. The vast majority – likely around 97 percent – of the culpability for the receding sea is increasing water diversion in the region.
On November 27, NPR published an article titled, "Encore: The Dead Sea is drying up because of overexploitation and climate change." The article asserts that sea level is dropping four feet per year. This is a dramatic acceleration from previous sea-level decline, which in recent decades averaged several inches to a couple feet per year. The NPR article notes that freshwater sources that feed the Dead Sea have recently been diverted by Jordan and Israel for drinking water and irrigation. The article also notes that Israeli and Jordanian companies deliberately pump increasing amounts of water from the Dead Sea in order the evaporate the water and export the valuable minerals the water contains.
Despite all this deliberate diversion and removal of water from the Dead Sea, NPR attempts to frame climate change for the receding sea. The article begins, "Climate change and exploitation of natural resources threaten the natural wonder that is the Dead Sea." Also in the article, NPR's Daniel Estrin claims, "Climate change makes this worse. The areas is getting hotter. Rainfall is dropping."
Is that really true? Not according to objective rainfall and temperature data. According to temperature charts compiled from World Bank data by the website Trading Economics, there is no downward trend in Israeli rainfall or Jordanian rainfall in recent decades. Similarly, the World Bank data show only a very modest – less than 0.5 degree Celsius – increase in Israeli and Jordanian temperature in recent decades.
An increase of less than 0.5 degrees Celsius does not cause an entire sea to lose four feet of sea level each year. At most, the very slight temperature increase would lead to a fraction of an inch per-year increase in evaporation.
The reality is the primary reason for the accelerating decline in Dead Sea water level is human activities that have nothing to do with climate change. For an opportunity to stoke climate change alarm, however, NPR deceitfully leaves readers with the impression that climate change's lack of impact or negligible-at-worst impact on Dead Sea levels is a primary reason for the decline. Shame on you, NPR.
[Image of Dead Sea courtesy of Pixabay.]