Google News this morning is promoting an article claiming Guatemalan farmers are being afflicted by negative impacts from climate change – as Guatemalan crop yields continue their impressive long-term growth. The truth is, Guatemalan farmers are enjoying consistent increases in crop yields as the Earth modestly warms.
Among the top items this morning under search results for "climate change," Google News is promoting an article by the leftist Latin American publication Americas Quarterly, titled "Q&A: A Guatemalan Farmer Battles Climate Change." The article is an interview with a Guatemalan farmer in which the Americas Quarterly interviewer tries to get the farmer to say climate change is making it harder for him to make a living. The farmer, complies, saying, "Climate change has been a significant challenge for my community." Neither Americas Quarterly nor the Guatemalan farmer, however, present any statistical crop data to support the assertion.
Fortunately, the United Nations Food and Agriculture Organization (UNFAO) provides detailed data on crop production in Guatemala and throughout the world. According to UNFAO data, charted below by the website The Global Economy, shows Guatemalan crop yields have been consistently improving throughout the past 50 years as the Earth modestly warms.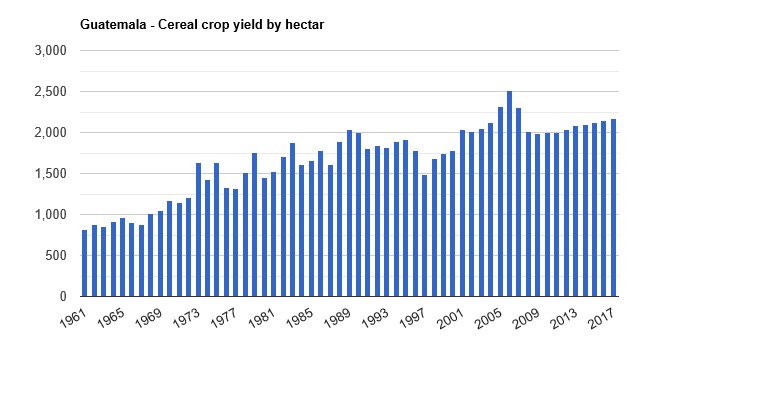 Sorry, Google News, but if Guatemalan farmers must "battle" climate change that is presenting a "significant challenge" to Guatemalan farmers, it is only in the context that farmers must "battle" the "challenge" of bountiful harvests – regardless of what far-left media sources claim.