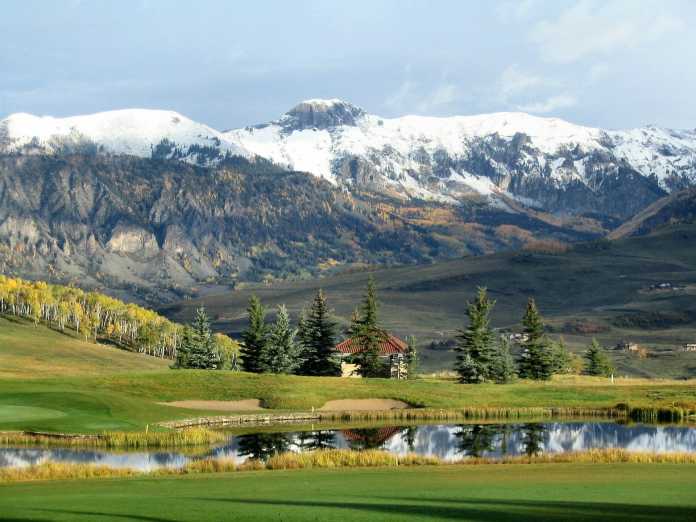 The Colorado Sun published an article yesterday claiming climate change is causing extreme drought in the state and devastating agricultural production. In reality, cyclical drought is an ongoing phenomenon in Colorado, with recent years being dry but not unusually dry. Moreover, the notion of climate-change devastation is contradicted by record agricultural production in recent years in the state.
The Colorado Sun article, titled "Climate change ravaged Colorado and the West with heat and drought in 2020. This year may be worse," ignores objective data reported by the National Oceanic and Atmospheric Administration (NOAA). According to NOAA data, shown in the chart below, cyclical drought comes and goes, but there has been no trend in overall precipitation as the Earth modestly warms, save for a significant increase in precipitation since the middle of the 20th century.
The Colorado Sun article includes the anecdotal claim, "Coloradans also can look out their windows and see the 'snow drought' forecasters are talking about when they say snow cover in the West is the worst it has been at any time in the last two decades." However, objective snow cover data show global and Northern Hemisphere snow cover has modestly increased during the past 30 years. It is hard to blame "global warming" on any recent downtick in snowfall when there is no such global downtick occurring.
Also, and ironically, much of Colorado experienced substantial snowfall just a few days before the Colorado Sun published its story Snowfall totals topped 14 inches in Aspen, 15 inches in Silver Thorne, and 20 inches in Snowmass. In addition, the story ran just as the National Weather Service is warning winter storms could drop an additional 20 to 30 inches of snow across the state.
Longer-term, a previous Climate Realism article shows that, although in the past few years Colorado has experienced below-average precipitation, neither the severity nor the duration of current conditions is unusual.
The National Oceanic and Atmospheric Administration (NOAA), chart reproduced below, shows Colorado experiences periods of low minimal precipitation periodically. Colorado is currently experiencing one of those periods of low precipitation. However, there is no long-term trend of drought or low precipitation. In fact, the three periods during which Colorado experienced its least rain and snowfall occurred between 1900 and 1955. No period since 1955 has been as dry for Colorado as those three separate events that occurred between 65 and 120 years of global warming ago.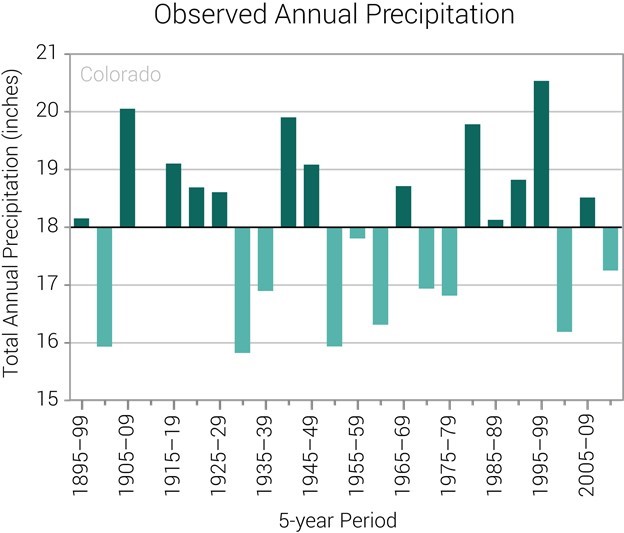 Source: National Oceanic and Atmospheric Administration, State Climate Summaries: Colorado
Also, as shown in Climate at a Glance: Drought, data from the United Nations Intergovernmental Panel on Climate Change and NOAA show long-term moisture trends across the Mid-Western United States and the Mountain West are positive.
In 2017 and 2019, the United States registered its smallest percentage of land area experiencing drought in recorded history. Indeed, the United States is undergoing its longest period in recorded history with fewer than 40 percent of the country experiencing "very dry" conditions. And the IPCC reports with "high confidence" that precipitation has increased over mid-latitude land areas of the Northern Hemisphere (including the United States) during the past 70 years, while IPCC has "low confidence" about any negative trends globally.
Finally, the Colorado Sun article claims drought is decimating Colorado crop production. "A thirstier atmosphere dries out farms," the article claims, while publishing some Colorado farmers' subjective anecdotal claims. However, the U.S. Department of Agriculture reports Colorado farmers produced record oat yields in 2016, record corn production in 2017, record Barley yields in 2018, and record wheat yields in 2019.
In summary, long-term data indicate Colorado's recent precipitation shortfall is not at all unusual or particularly severe. Rather than trying to stoke climate alarm, the Colorado Sun should stick to reporting the facts, which are hardly alarming.