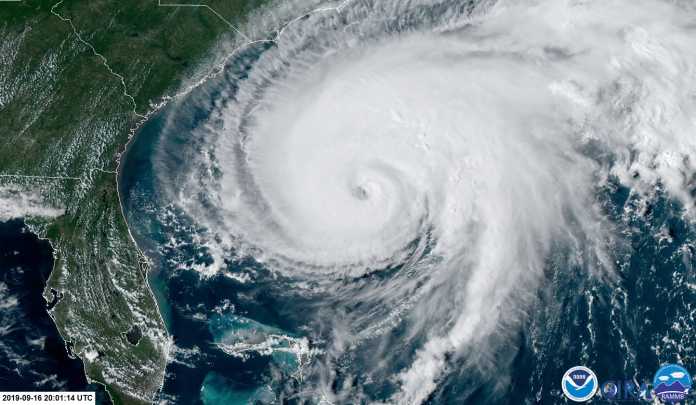 One of the most common arguments of climate alarmists has been that climate change will lead to more hurricanes. Al Gore depicted the devastation of New Orleans by hurricane Katrina in his movie An Inconvenient Truth and linked it to climate change.
In a speech at Sierra Club's National Environmental Convention and Expo in San Francisco on September 9, 2005, Gore said,
"Ladies and gentlemen, the warnings about global warming have been extremely clear for a long time. We are facing a global climate crisis. It is deepening. We are entering a period of consequences.
"… Last year we had a lot of hurricanes. Last year, Japan set an all-time record for typhoons: 10. The previous record was 7. Last year the science textbooks had to be rewritten. "
But then, the United States benefited from a record 4,323 days without a landfalling hurricane, and Gore's claims fell flat.
Now, there's a new eye-opener.
The British Broadcasting Corporation (BBC) reports from a regional meeting of the World Meteorological Organization (WMO) this week, where meteorologists and officials are discussing a possible change to how the hurricane season is defined.
"'The 2020 hurricane season was one of the most challenging in the 40-year history of [the] WMO's Tropical Cyclone Programme,' says WMO Secretary-General Prof Petteri Taalas. The record number of hurricanes combined with Covid-19 to create, literally, the perfect storm.
"The 2020 Atlantic hurricane season was the most active on record with a total of 30 named storms. Two of those storms – Arthur and Bertha – formed in May. As all the pre-determined names were used up, officials at the NHC had to move on to using the Greek alphabet for only the second time."
Oh no! They are running out of names! Again, gloom and doom. But wait, a voice of reason speaks up. Data provided by Brian McNoldy, senior researcher at the University of Miami's Rosenstiel School of Marine and Atmospheric Science, shows a 12-19% increase in named storms, hurricanes and major hurricanes. But he also says that while the number of named storms has increased over the decades, this is the result of improved technology being able to find minor storms that previously avoided detection.
Dr McNoldy notes "…the big shift in counts is simply that there were several inactive seasons from 1981-1990 and several active seasons from 2011-2020. Once that inactive period drops out of the average, and is replaced by the active, it will increase the numbers.
The overall increase from 1961 is also likely to be due to better technology, along with observations over the Atlantic Ocean. Since satellites came along in the 1980s, we can spot and monitor the development of tropical cyclones and name them when they meet the threshold.
We are simply able to record more."
Wait, what? Climate change isn't to blame? I'm surprised the man wasn't ejected from the meeting. In summary:
We now record many more hurricanes than we used to, because of better technology and global coverage of weather satellites that came along in the 1980s.
We also name more storms today because of policy changes that now include sub-tropical storms.
The 1980s was a very inactive decade for hurricanes, thus skewing trends to the present upwards. But since the 1960s, the rise in numbers can be explained in totality by better observation.
Using data from the National Atmospheric and Oceanic Administration (NOAA), it is clear that the 2020 hurricane season, while touted as the result of climate change, was simply unremarkable.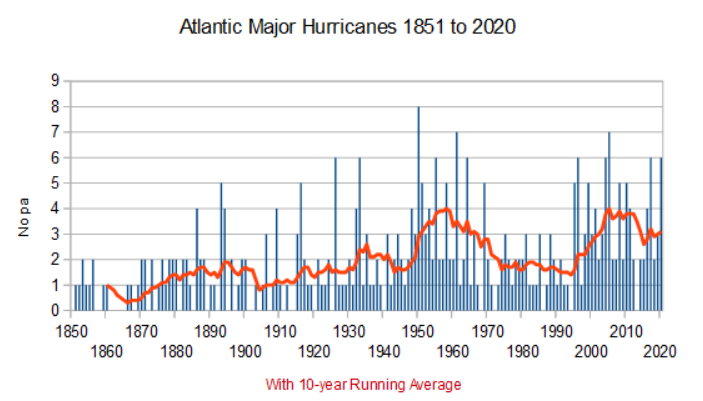 Source data: https://www.aoml.noaa.gov/hrd-faq/#tcs-after-1930
As we can see above, major hurricanes were just as frequent as now back in the 1950s. The inactive hurricane period of the 1970s and 80s is also clear.
This is in total agreement with what we pointed out in Climate At A Glance: Hurricanes; there has been no increase in hurricanes as the planet has modestly warmed.
But wait, the backup claim by climate alarmists is the usual nonsense about "hurricanes getting stronger", for which there is absolutely no evidence.
Data from the last 50-years+ of Global and Northern Hemisphere Accumulated Cyclone Energy compiled by Dr, Ryan Maue shows the energy of hurricanes hasn't increased at all and that the 2020 hurricane season was unremarkable.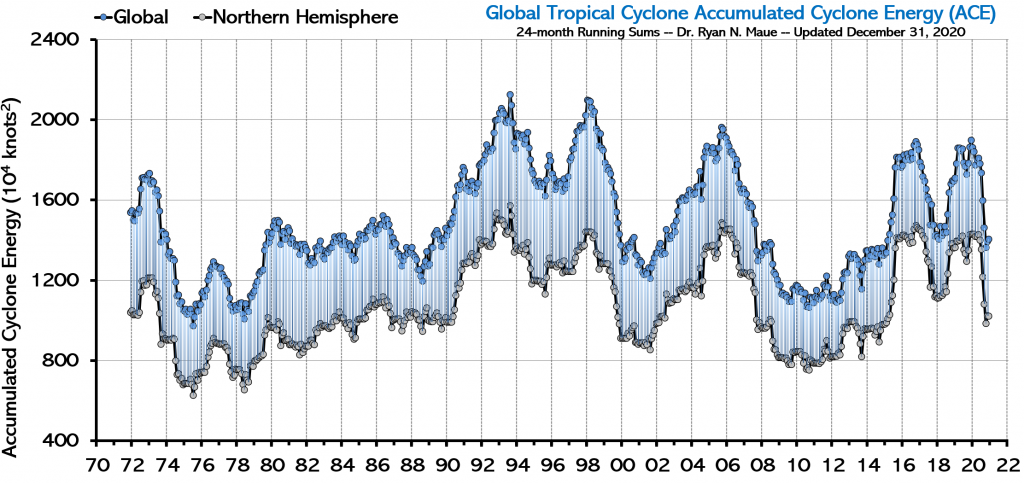 It seems that all you have to do is scratch the surface of media and alarmist claims about hurricanes to find the real truth in the data, and the data tell us there's no effect from "climate change" whatsoever.